REMAP TOOL - Remapping, tuning for Honda
Communicating via K-line with Honda ECU

Remapping, tuning on the genuine ECU

Self-adjusting fuel/fire map (MAP)

Pay with Paypal

Warranty: 12 months

Brand: Autoshop 

Made in VietNam

In stock
Distributor
CLICK HERE TO DOWNLOAD REMAP TOOL 2.0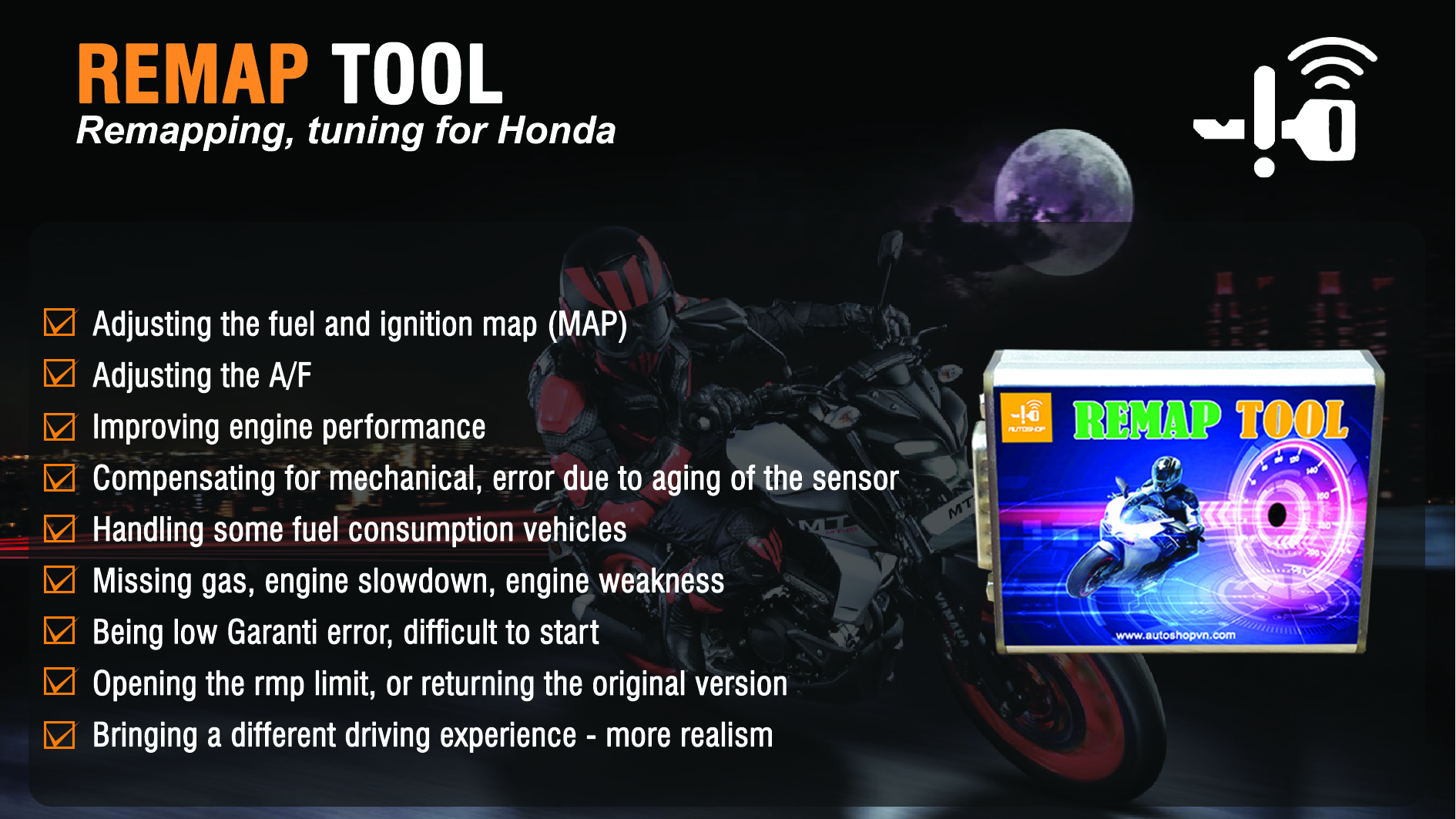 Tuning or remapping

 is essentially the same. Tuning is the editing of the fuel and ignition maps, Remapping is a refresh of the fuel and ignition maps in ECM

We all listen to music, sure we know the word "REMIX". It means that they renew a song in a new style. That song is bad or good depends on the musician

Therefore, the MAPs adjust fuel and ignition is optimal or not, effectiveness or not depends on who works for TUNING. The purpose is to meet the practical demand of mechanics that they can remap fuel or ignition, to create the most suitable REMAP version for each model, improve wattage of the vehicle, improve for stability, Autoshop has researched and manufactured "Made in Vietnam" - REMAP TOOL equipment

Set rpm (revolutions per minute) is just a small part of TUNING. And here we set rpm but still within the manufacturer's limits. If you set rpm but do not re-adjust the fuel and ignition maps, the engine still cannot achieve high efficiency. That means idling up to 12000 rpm but when loaded, it cannot be

 

The REMAPPING function does not set rpm. Set rpm is just a small part of REMAPPING. Each ECM will have a map or table that controls the amount of fuel and ignition timing according to the input signals ECT, TP, MAP, IAT, CKP ... Each MAP will meet different criteria
Functions Honda:
Adjusting the map (MAP) to add fuel and ignition as your request

Adjusting the A/F

Improving engine performance following the different working modes and terrain conditions and operating environments of the vehicle

Compensating for small mechanical(eg, injector mechanical ...) or error due to aging of the sensor, leading to the wrong sensor value range

Handling some vehicle fuel consumption with high fuel injection time, saving fuel

Missing gas, engine slowdown, engine weakness, vehicle not loading when accelerating, or sudden acceleration

Being low garanti error, difficult to start

Opening the rpm limit, or returning the manufacturer's the original

Bringing a different driving experience - more realism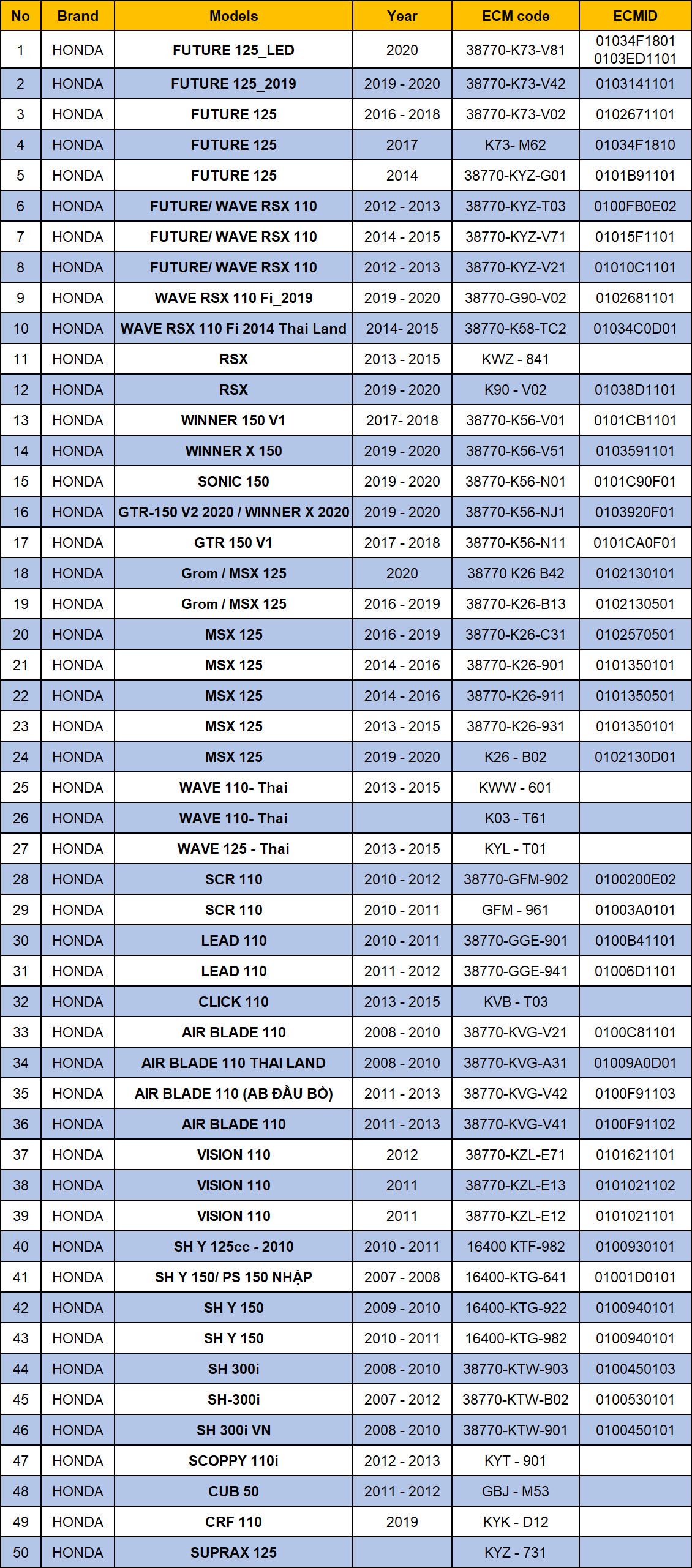 Accessories Include:
01 Remap Tool

01 Honda cable

01 remap Cable on table

01 USB – PC cable
Top 11 reasons to choose Autoshop Vietnam

  1. Professional manufacturer and distributor of fault diagnosis equipment
  2. Distributors nationwide and a lot of countries around the world
  3. The technical support team is enthusiastically consulted and guided
  4. Pay with PayPal, Bank transfer or Western Union
  5. Best quality product
  6. Competitive price
  7. Fast delivery from 3-5 days
  8. Being a reliable sales unit
  9. Distributors in Europe, Asia, America and Africa
10. One year warranty and lifetime after-sale service
11. The return policy is very simple
 Our target is to provide you with a simple, easy and convenient shopping experience. Welcome to us!
Contact information
After sales service
Almost all items are warranted for one year.

We also provide free repairing services for almost every item we sold within a year. Errors caused by customers will cost.
Shipping warranty:
Shipping by DHL, UPS, EMS with no Tax. Shipping time is from 3 to 5 days

If you do not receive your item on time, please contact us to check the status of the package on time: +84943 967 767
No customer reviews for the moment.