PROTOOL - ODO correction device for car, motor, motobike
Product code:

 PRTF01

Status:

 instock

Warranty: 

12 months

Made in VietNam
Distributor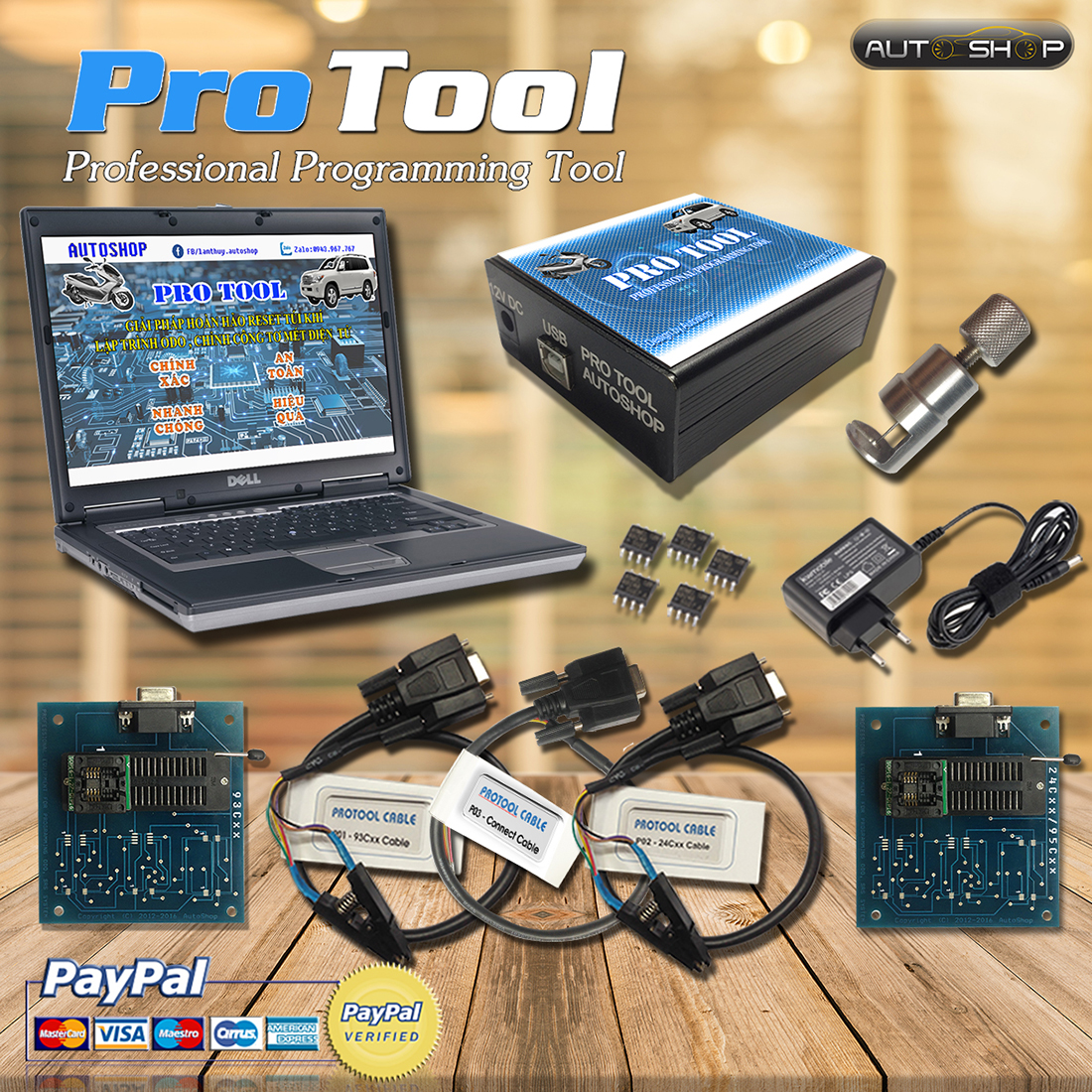 1, Production.
PROTOOL is a product developed by Autoshop since 2014. It is a specialized device for adjusting electronic speedometer (ODO) and resetting airbags for models like: cars, motorcycles, motorbikes and agricultural machines, construction machines.

Especially, there is no need to remove the memory IC (EEPROM), specific connection diagram for each vehicle.

Automatic calculation software, adjusting standard value of ODO, restore data when the original data errors. Recover airbags, reduce repair costs.

An extremely useful option for garages, workshops and mechanic of motors, motorcycles and construction machines.

Professional training, user guide, online support via Teamviwer, Ultraviewer, Anydesk,...

Support most of the latest models of cars, motorcycles, motorbikes and motorcycles until 2019.

Very good support car market in Vietnam and Southeast Asia.

Many Languages: English, Vietnamese, Thailand

Free update 24 months and 12 months warranty.

2, features.

Adjustment of electronic speedometer for cars, motorcycles, motorbikes and powerful motocycles.

Restore data inside the memory IC, Support repair ODO

Reset and restore the collapsed airbags.

Restoring power steering control for Toyota and Lexus

Programing standard working hours of construction machines, agricultural machines and industrial machines.

Support for programming Smartkey system of Honda, Yamaha, Suzuki*
Features table:

3, List of support vehicles
CAR

 : Audi,Acura, BMW, Buick, Cadilac, Chenglong,Chevrolet ,Chrysler, Dodge, Dongfeng, Ferrari, Fiat,Ford, Foton, GMC, Howwo, Honda, Hitachi, Hummer, Hyundai, Infinity, Isuzu, Jeep, Kia, , Komatsu ,Lexus, Lincoln, Mazda, Mercedes, Mini Cooper, Mitsubishi, Nissan, Opel, Porsche,LandRover, SSangyong, Ssburu, Suzuki, Toyota, Volkswagen

Trucks, Chinese cars

:Howo, Dongfeng , Chenglong Hai Au, Hitachi construction machines , komasu, Kobelco, Kubuta, hyundai, Liugong, Doosan, XCMG, XGMA, Foton

Motorcycle

: Honda, Yamaha, Suzuki, SYM, Piaggio

Construction machines, industrial machines:

Honda

: Airblade (2013-2019), Click (2013 -2019),Cbr15DR/150/250/1000, Dylan 125, Msx 125/150, Future Neo,  Lead 125 (2013-2019), Pcx( 2008-2019), SH 125/150/300(2008-2019), SH Mode ( 2015-2019), Sonic 125, Vario 125/150 (2013-2019), X-Adv, Ware 125, Winner

Yamaha

 : Acruzo, Exciter 150 (2014-2019), Fz150/150i/FZ16,  Grande, Novo Lx/Sx, Qbix, R1/R15/RR15D

Piaggio/Vespa

: Liberty( 2017-2019), Primavera (2017-2019), Sprint (2017-2019)

Suzuki: 

An150, En 150, Raider (2012-2015), Gsx ( 2009-2015)

Kawasaki

: Z1000R, Ninja
4. List of accessories

5. Specifications.
Model: PRTF01

Power: 12V/1A

Size: 10cm x 14cm x 12cm

Weight: 0,9kg

Made in VietNam
No customer reviews for the moment.