VVDI MINI TOOL - Renew and generate remote/keyless for Honda, Yamaha
Warranty 12 months
Updated: 12 months free
Origin: China
In stock
Distributor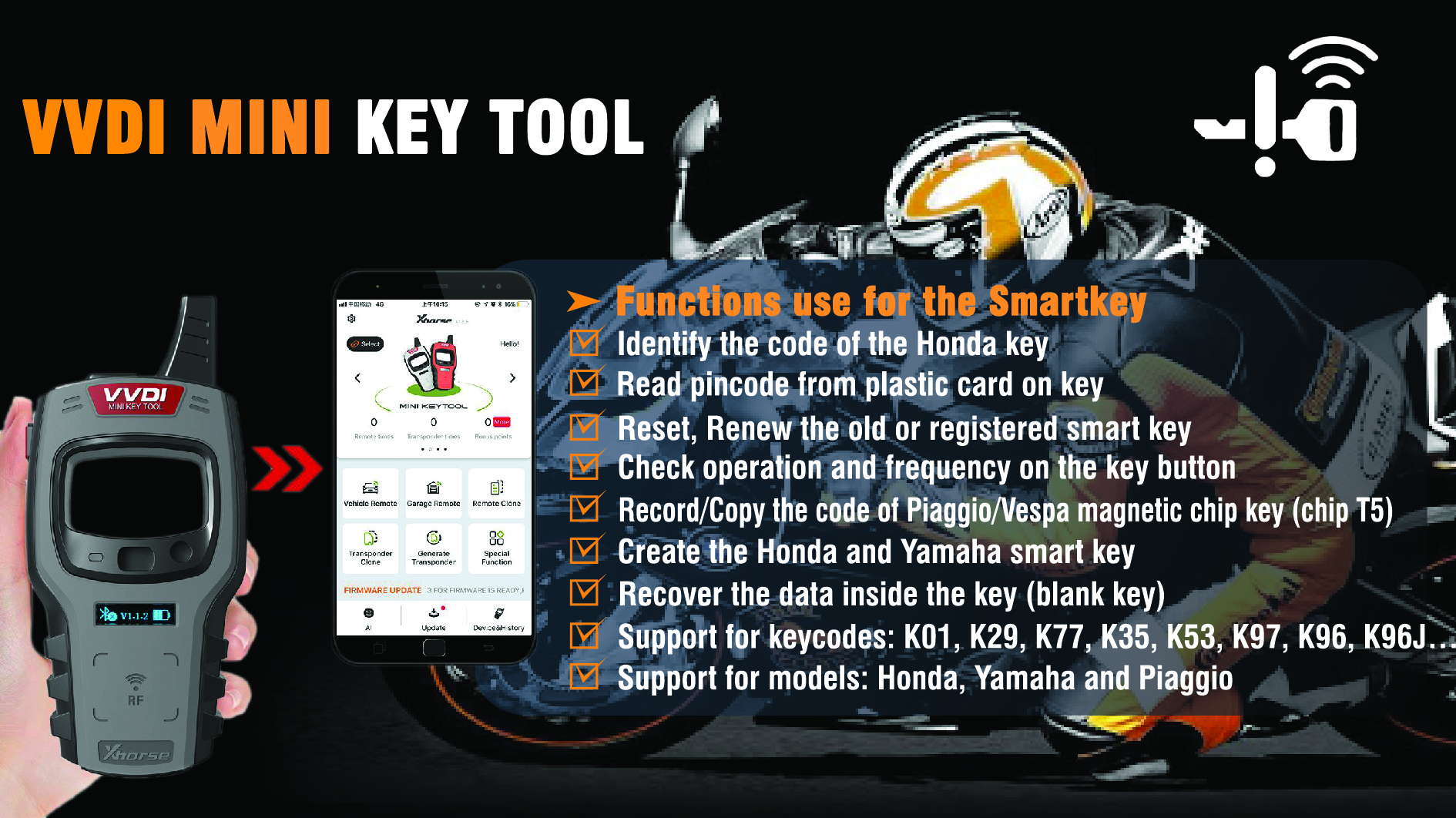 Mini Key Tool Function Introduction:
It can also generate remotes for various car brands and motobike by connecting the mini key tool with the VVDI Mobile App available on both Android & iOS mobiles.

Read the pincode ID on the plastic card on the key

Reset, renew the registered keys or the used keys

The key after renewal can be reused and registered for any bike

Generate

SmartKey Honda Honda K01, K35, K36, K77, K53, K12, K44, K66

Support reset, renew  Smart key for Honda Airblade / Lead / Click / Vario (updating)

Use for all keys such as: K01, K29, K77, K35, K53, K36, K97, K96, K96J ...

Read, write IMMO code for PIAGGIO / VESPA (chip T5)

Support all smart key of HONDA and YAMAHA
VVDI Mini Key Tool Full Authorization (already activated):
AI - Car Remote Type

AI - Key Blade Type

AI - PIN Code

Remote - Vehicle Remote

Remote - Garage Remote

Remote -Proximity Remote

Generate Transponder - 7935/46/4D/48/8C

Generate Transponder - Toyota H (8A)

Transponder Clone - ID48 (96 bits)

Transponder Clone - ID46

Transponder Clone - ID4D

Transponder Clone - ID4E

Transponder Clone - ID70/ 83

Transponder Clone - ID11/ 12/ 13/ 4C/ 8C

Transponder Clone - Toyota/ Daihatsu G

Transponder Clone - Toyota H (8A)

Transponder Clone - ID33/42

Transponder Edit - 11/12/13/4C

Transponder Edit - 46/47/48/4D/4E

Remote Clone - Fix Code

Remote Clone - Rolling Code

Remote Clone - Make New

Detect Remote Frequency

Set Type of VVDI Super Transponder

VVDI Special TP

Special 4D to 4C

Unlock Toyota Smart Key

ID63 to ID83

Hyundai/Kia PIN Code

Copy BYD Smart Key

Detect Ignition Coil Signal
Specifications
Usage Time: ≥10 Hour

Product Size: 108x194x28mm

Weight: 229g

Charge Current: 1A

Battery Capacity: 150mAh

Power: 600mW

Battery Voltage: 3.6-4.2V
 List of accessories
1pc x VVDI Mini Key Tool Device

1pc x Remote Programming Cable

1pc x USB cable

1pc x User Guide
Top 11 reasons to choose Autoshop Vietnam

  1. Professional manufacturer and distributor of fault diagnosis equipment
  2. Distributors nationwide and a lot of countries around the world
  3. The technical support team is enthusiastically consulted and guided
  4. Pay with PayPal, Bank transfer or Western Union
  5. Best quality product
  6. Competitive price
  7. Fast delivery from 3-5 days
  8. Being a reliable sales unit
  9. Distributors in Europe, Asia, America and Africa
10. One year warranty and lifetime after-sale service
11. The return policy is very simple
 Our target is to provide you with a simple, easy and convenient shopping experience. Welcome to us!
Contact information
After sales service
Almost all items are warranted for one year.

We also provide free repairing services for almost every item we sold within a year. Errors caused by customers will cost.
Shipping warranty:
Shipping by DHL, UPS, EMS with no Tax. Shipping time is from 3 to 5 days

If you do not receive your item on time, please contact us to check the status of the package on time: +84943 967 767
No customer reviews for the moment.