REMAP HONDA ACG - Remap, Tuning, Open RPM Limiter Honda ACG (ECM Shindengen)
Remap, tuning, open rpm limiter
Adjust fuel map (the air-to-fuel ratio A/F)
Support for 29 types of motobike
400 MAP files with configuration 
Using ECU Honda ACG – Shindengen

Pay with Paypal

Warranty: 12 months

Origin: Vietnam

Status: In stock
Distributor
Free for update version 6.1
Support for Tuning/Remapping 29 types of Honda ACG until 2021

Add Vario/Click 125 (2016-2017): K60F-T01-TH01, K60K-B31-IN01, K60S-T71-TH01,  K60A-B01-IN01, K60R-B61-IN0

Add Vietnamese SH (2016-2017): K01J-611-V01, K02K-701-V01

Add Vietnamese PCX 150(2016-2017): K35A-V01-V01

Add Thailand PCX 150 (2017-2019): K36S-T31-TH01
Add LEAD 125 – No smartkey (2016-2018): K12H-931-V01

Provide 400 MAP files with configuration from virgin motors to modified throttle, air filter, bigger piston, exhaust pipe, fuel injector,…

Use MAP to turn OFF smart key state, change smart key into mechanical key (remove the second-factor authentication)

Use MAP to turn OFF code error – 88 when the EVAP valve is damaged, reuse ECM no need to change into a new one, save the cost

All of the MAP files were run in real configuration, tested HP, tried by Dyno, optimized with AFR(optimize air-to-fuel ratio A/F)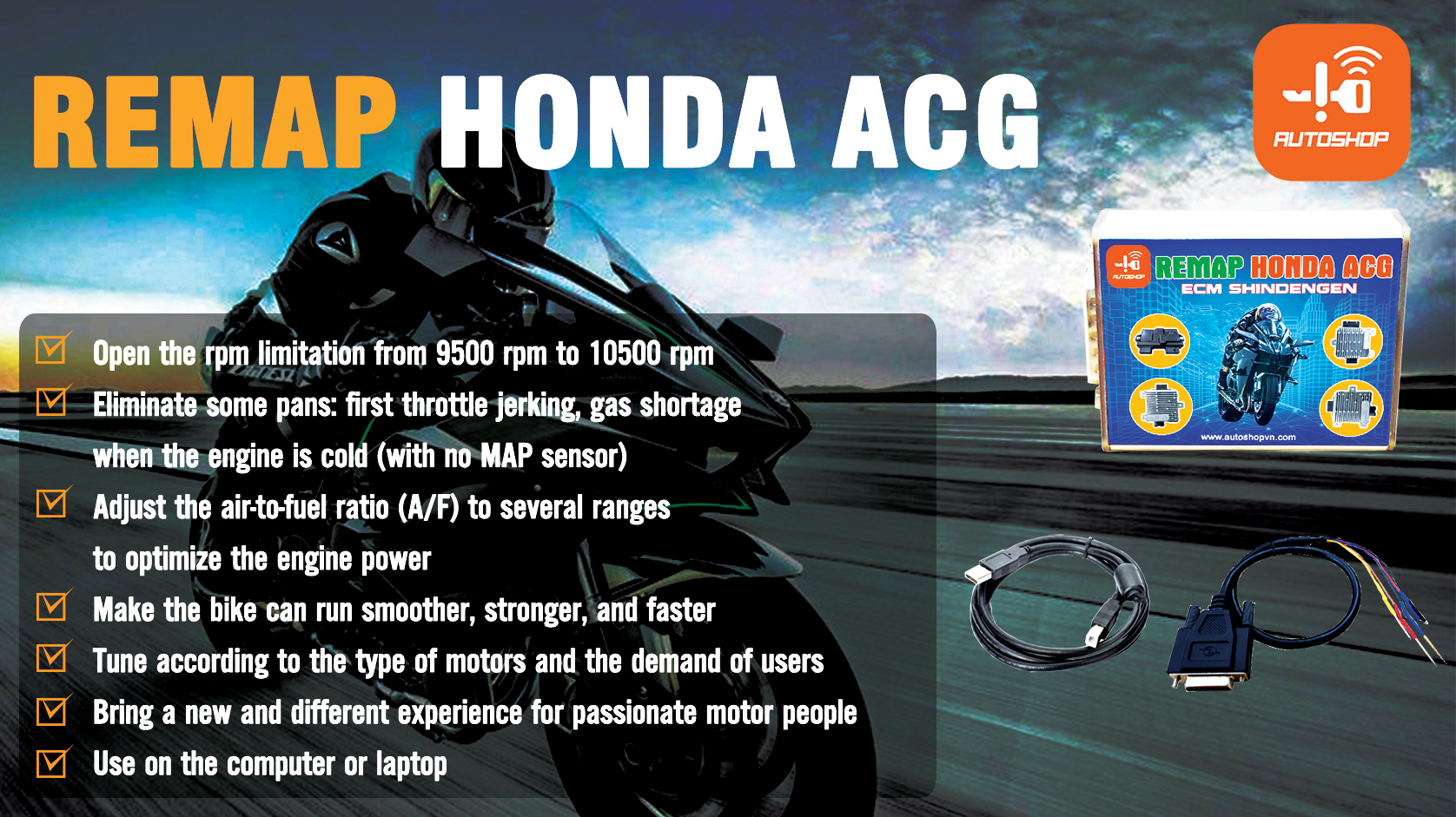 List of supported motor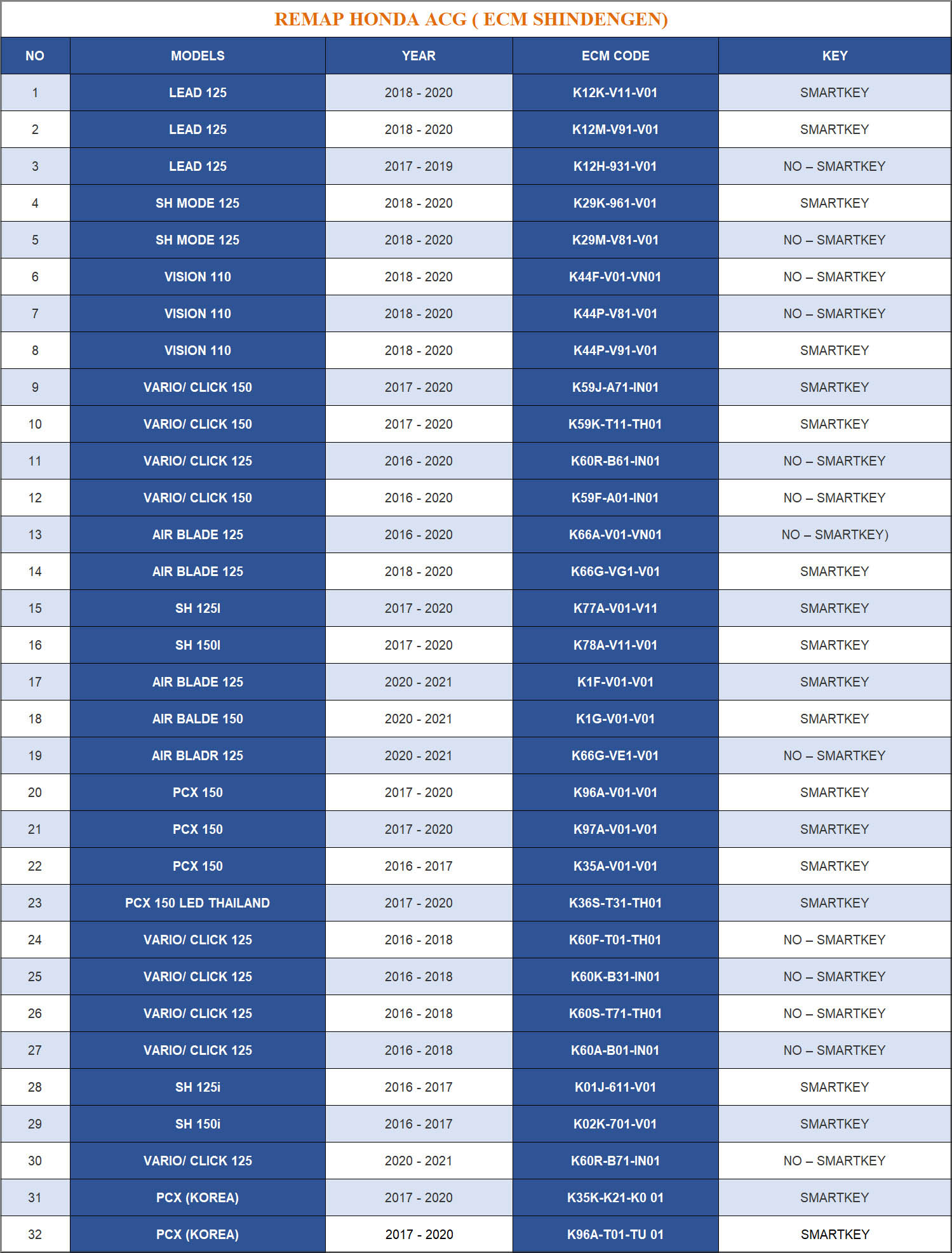 All of the MAP files were run in real configuration, tested HP, tried by Dyno, optimized with AFR(optimize air-to-fuel ratio A/F)

torque, accelerates strongly.

Support 29 types of Shindengen ECU including Honda PCX, SH, SH Mode, Vario, Vision, Airblade, Lead

Part number: 

K12K-V11-V01, K12M-V91-V01, K12H-931-V01, K29K-961-V01, K29M-V81-V01, K44F-V01-VN01, K44P-V81-V01, K44P-V91-V01, K59J-A71-IN01, K59K-T11-TH01, K60R-B61-IN01, K59F-A01-IN01, K66A-V01-VN01, K66G-VG1-V01, K77A-V01-V11, K78A-V11-V01, K1FA-V01-V01, K1GA-V01-V01, K66G-VE1-V01, K96A-V01-V01, K97A-V01-V01, K35A-V01-V01, K36S-T31-TH01, K60F-T01-TH01, K60K-B31-IN01, K60S-T71-TH01, K60A-B01-IN01, K01J-611-V01, K02K-701-V01  ...
Function
Eliminate some pans: first throttle jerking, gas shortage when the engine is cold (with no MAP sensor)

Adjust the air-to-fuel ratio (A/F) to several ranges to optimize the engine power

Open the rpm limitation from 9500 rpm to 10500 rpm

Make the bike can run smoother, stronger, and faster

Tune according to the type of motors and the demand of users

Bring a new and different experience for passionate motor people

Use on the computer or laptop
Accessories
01pcs Remap Honda ACG device

01pcs connector cable

01pcs USB cable
Top 11 reasons to choose Autoshop Vietnam

  1. Professional manufacturer and distributor of fault diagnosis equipment
  2. Distributors nationwide and a lot of countries around the world
  3. The technical support team is enthusiastically consulted and guided
  4. Pay with PayPal, Bank transfer or Western Union
  5. Best quality product
  6. Competitive price
  7. Fast delivery from 3-5 days
  8. Being a reliable sales unit
  9. Distributors in Europe, Asia, America and Africa
10. One year warranty and lifetime after-sale service
11. The return policy is very simple
 Our target is to provide you with a simple, easy and convenient shopping experience. Welcome to us!
Contact information
After sales service
Almost all items are warranted for one year.

We also provide free repairing services for almost every item we sold within a year. Errors caused by customers will cost.
Shipping warranty:
Shipping by DHL, UPS, EMS with no Tax. Shipping time is from 3 to 5 days

If you do not receive your item on time, please contact us to check the status of the package on time: +84943 967 767
No customer reviews for the moment.
You're reviewing "REMAP HONDA ACG - Remap, Tuning, Open RPM Limiter Honda ACG (ECM Shindengen)"