SMARTTOOL2 - Tuning, diagnostic, programming smart key and ODO
Free ALLMOTO application

Pay with Paypal

Shipping by DHL

Warranty 12 months

Updated: 12 months free

Made in Vietnam 

In stock 
Distributor
Free update version 9.9 date 20/05/2021 (NOT USED FOR TMAX VERSION) | Click here to download version 20/05/2021
| Click here to watch update guide video | Click to view a list of functional updates
SMARTTOOL2 is a handset diagnostic tool that was researched and produced in Vietnam, this multifunction device is used for motorcycles equipped with PGM-FI electronic fuel injection, anti-lock braking system, smart key system, immobilizer system, odometer system, LED lighting system. In addition, SMARTTOOL2 also integrates one of the latest technology which is opening the RPM limit, adjusting the A/F, remapping or tuning for models Honda, Piaggio, and Suzuki

The tool with a simple interface and easy to use

ALLMOTO app was used free for searching electrical circuit diagram and repair guide

Technology transfer, technical support department

Using in many languages: English, Vietnamese, Indonesian

Auto-update on the internet, customers can update by themselves

Free for update and warranty in 12 months

Distributors in Vietnam, Indonesia, UAE, and other countries

Support all motocycles: HONDA, YAMAHA, PIAGGIO, SUZUKI, SYM, KYMCO
·       1. Diagnostic engine system/ PGM - FI system
Auto seach motobike

Read current and history DTC

Erase DTC, reset ECM

Engine Live Data

Check A/F ratio

Analysis Emission

View ECU/ ECM Info

Adjust CO Value (A/F ratio)

Check sensor operation

Active test component

Software upgrade ECU for Honda and Piaggio

environmental factor / altitude setting

Reset the idle air control valve IACV / ISC

Reset / set the "0" point position of the throttle position sensor

Erase error P0611 full EEPROM memory of Piaggio / Vespa vehicles

Supports all motorcycle HONDA, YAMAHA, PIAGGIO, SUZUKI, SYM and KYMCO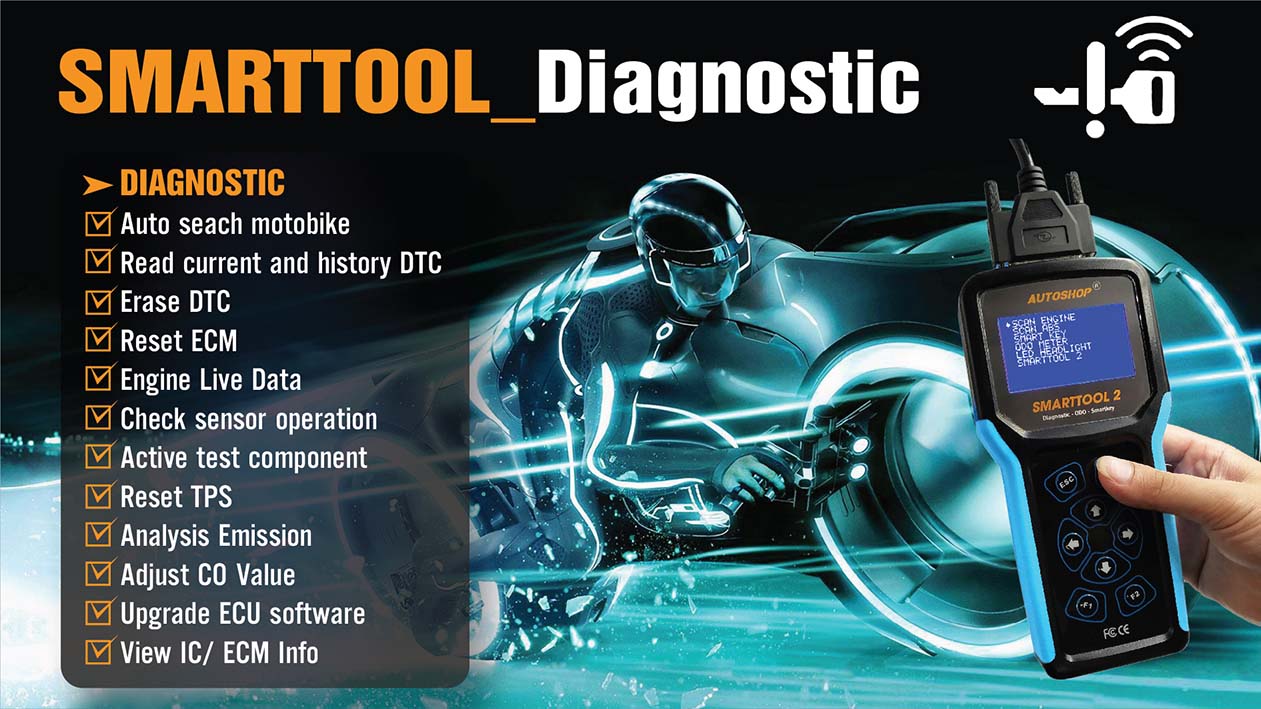 2. Diagnostic ABS system
Read current and history DTC

Erase DTC

ABS Live Data

Active test component

View ACU Info

Support motorcycl: HONDA, YAMAHA and PIAGGIO
 3. Remap, tuning and open RPM limit
In addition to the normal functions as the device diagnostic, SMARTTOOL2 is also integrated with remapping and tuning technology, open RPM limit

Tuning or Remapping is the same. Tuning is the editing of the fuel and fire maps, Remapping is a refresh of the fuel and fire maps in ECM. Revolving is opening the rpm limit within the permissible limit to meet the mechanical part of the manufacturer

Adjusting the Air/Fuel ratio (A / F)

Improved engine performance in accordance with the different working modes and terrain conditions and operating environments of the motobike

Compensate for small mechanical wear (eg, injector mechanical ...) or error due to aging of sensor, leading to drift of sensor value range.

Handling some car fuel consumption cases high injection time, fuel saving, low Garanti

Open the rpm limit or return the manufacturer zin

For a different driving experience - more realism

Support remapping for Honda SH150i / PS150 entered (2007-2008) ECU code: 16400 - KTG -xxx

Support tuning for PIAGGIO ECM / ECU codes: 26M3G1HW and 28M3G1HW (see support list)

OFF the oxygen sensor with Piaggio / Vespa

Set the speed at idle (from 1500 RPM to 1800 RPM)

Height setting (above 2000m and below 2000m)

Reload original main data of the Piaagio / Vespa MCU vehicle
4. List of supported motor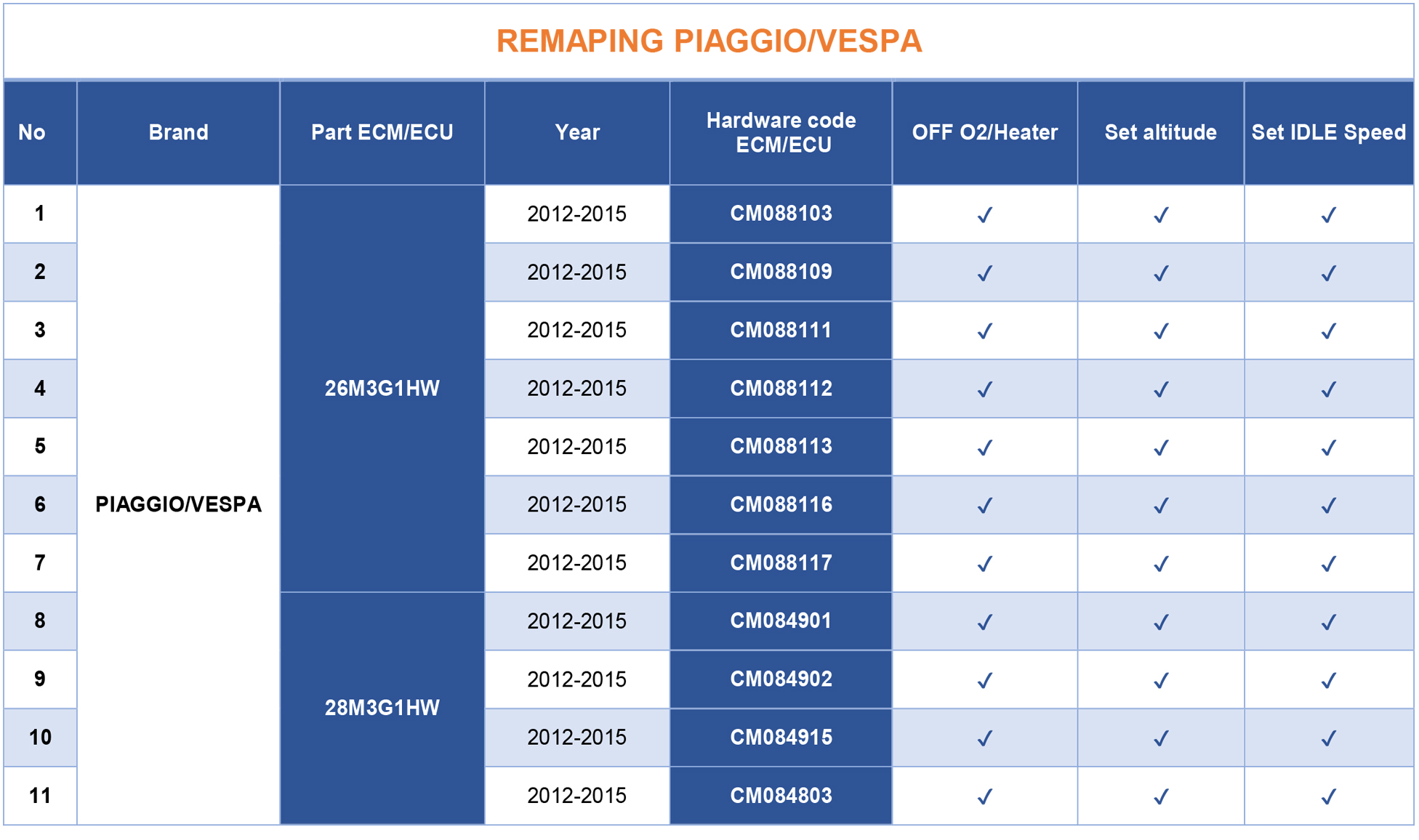 5. Smart key/ Keyless Honda, Yamaha and Suzuki
Read KEYID from smart box when all keys lost

Read ECMID from smart box

Read/reset ECMID from ECM

Erase key lost

Erase the missing key code

Reflash EEPROM data of smart box

Register new keys in the all keys lost case.

Add key by key

Check the synchronization between key and smart box

Re-use the Honda "used key"

Change ON / OFF key status

Sync smart box and ECM automatically

Replace new ECM

Register up to 6 keys at once bike Honda
List:
HONDA:AIRBLADE (2018-2021), CLICK 125i (2018-2021), LEAD 125 (2017-2021), PCX( 2016-2021), SH 125/150/300(2016-2021), SH MODE ( 2016-2020), VISION (2018-2021), VARIO 125/150 (2018-2021), ADV, X-ADV 750, FORZA 300 ( 2018-2020), SCOPPY (2017-2021)

YAMAHA : AEROX (2018-2021), GRANDE ( 2018-2021), JANUS ( 2018-2021), NVX (2018-2021) ,LATTE (2020-2021), FREEGO (2020-2021) QBIX, XMAX, NMAX,  

T-MAX 530i, T-MAX DX, T-MAX SX SPORT, T-MAX IRON MAX (2015-2021)

SUZUKI: RAIDER FI (2016-2020), GSX FI (2016-2020).
6. Immobilizer system PIAGGIO/VESPA
Register the new keys in the all keys lost case.

Reset, erase all keys of IC / ECM.

Support register new keys.

Support list : AC13I, AC191, AC19I, AC20I, AC21I, AC23I, AC24I, AC25I, AC27I, AC32I, AC5I, AC8I, ACI600, AC601, ACI602, ACI603, ACII, AC2I, AC5I, AC8I, AC13I, MIU1, MIU2, MIU G3/RIU1, MIU4, PGU09, PGN04/PGS02/PGS06/PGT01.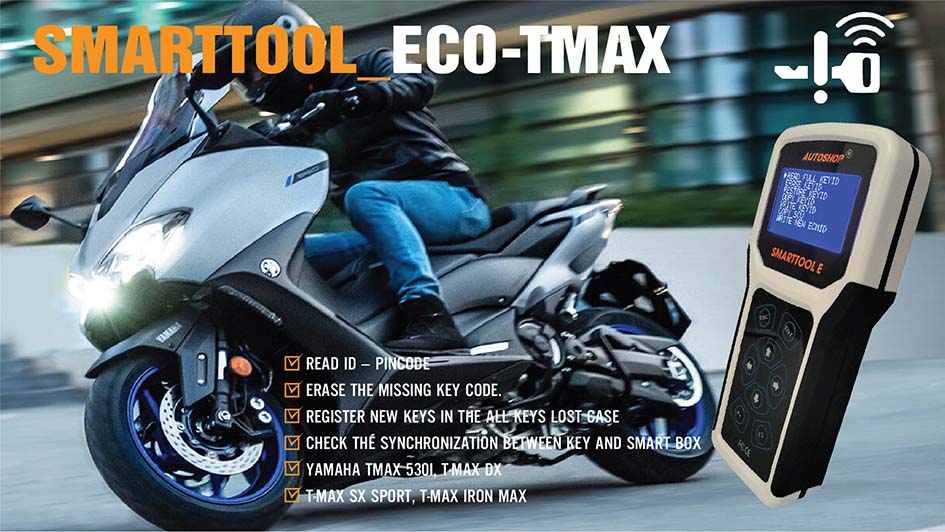 7. LED system
Activate the LED system

Support checking LED system
8. Odometer adjustment
Read the current mileage

Correct odometer value of motorcycle dashboard.

Restore the original data

Automatic correct odometer

All moto, motobike Honda, Yamaha, Suzuki, Kawasaki and Piaggio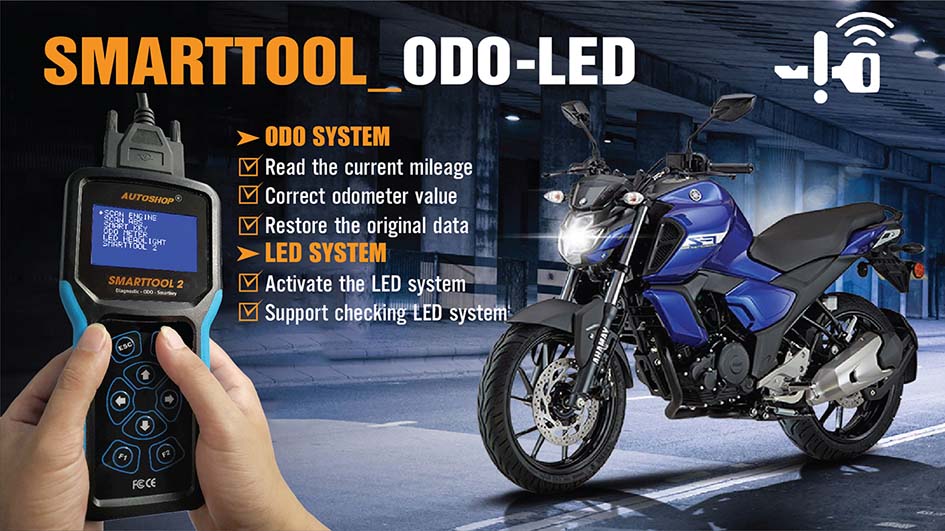 9. Functional table packages:
10. List of accessories 
Top 11 reasons to choose Autoshop Vietnam
  1. Professional manufacturer and distributor of fault diagnosis equipment
  2. Distributors nationwide and a lot of countries around the world
  3. The technical support team is enthusiastically consulted and guided
  4. Pay with PayPal, Bank transfer or Western Union
  5. Best quality product
  6. Competitive price
  7. Fast delivery from 3-5 days
  8. Being a reliable sales unit
  9. Distributors in Europe, Asia, America and Africa
10. One year warranty and lifetime after-sale service
11. The return policy is very simple
  Our target is to provide you with a simple, easy and convenient shopping experience. Welcome to us!
11. Contact information
12. After sales service
Almost all items are warranted for one year.

We also provide free repairing services for almost every item we sold within a year. Errors caused by customers will cost.
13. Shipping warranty:
Shipping by DHL, UPS, EMS with no Tax. Shipping time is from 3 to 5 days

If you do not receive your item on time, please contact us to check the status of the package on time: +84943 967 767
14. Technical services:
 If you have any technical issues, please contact us via email: autoshopv

[email protected]

When upgrading software: If you cannot upgrade yourself, please install the Teamviewer remote control software, our technicians will assist you. Link to download the software: 

https://www.teamviewer.com/en/

. Install it on your computer, then give us the ID and password for remote assistance.
Learn more at: 

http://www.autoshopvn.com
No customer reviews for the moment.